Single Phase USE Series(Hook Suspension Type)
Single Phase USE Series(Hook Suspension Type)
Product
Features
■ Runs on 220/230V, 50/60Hz AC power supplies, single phase.
■ Magnetic Cone Brake provides accurate and reliable stopping, even in the event of a total power loss.
■ Processed canvas chain containers, which have outstanding durability.(Steel containers are requires if lifting height exceeds limit of canvas chain container.
■ Standard lifts of load chain, push-button cord or power supply cables are 3 meters. Special lengths are available upon request.
■ 220/230V control.
Specifications



W.L.L.

Capacity

(ton)

Capacity

Code

Lifting Speed (m/min)

Lifting Motor

(kw)

Load Chain

Dia (mm) x

Chain Falls

Net Weight

(kg)

Load Chain

Weight per Meter

50 Hz

60 Hz

0.5

0050

5.6

6.4

1.1

7.1 x 1

61

1.2

1

0100

5.3

6.4

1.5

7.1 x 1

63

1.2

2

0200

2.6

3.2

1.5

7.1 x 2

74

1.2
Dimensions (mm)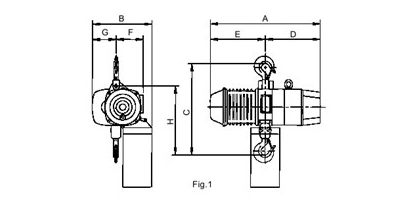 W.L.L.

Capacity

(ton)

Capacity

Code

A

B

Minimum

Headroom

C

D

E

F

G

H

0.5

0050

530

350

463

260

270

137

123

360

1

0100

530

350

463

260

270

137

123

360

2

0200

530

350

653

260

270

198

62

360