Monorail Type Motorized Trolley
Monorail Type Motorized Trolley
Product
Features
●Magnetic Cone Brake provides accurate and Reliable stopping, even in the event of a total power loss.
●Specially designed side roller system.
●Simple gear box construction.
●Minimum curve radius.
●Trolley wheels can be used on"I" beams and "H "beams and trolley can adjustable for varying beam size.
●Push button switches come in a standard 4-button type (Up/Down/East/west) for combines hoist.
Specifications
W.L.L.

Cap.

(ton)

Model

Trolley Speed (m/min)

Trolley Motor (kw)

Single Speed

Dual Speed

Single Speed

Doual Speed

50 Hz

60 Hz

50 Hz

60 Hz

4P

4P

2P

6P

1

MT0100L

12.5

15

0.3

MT0100H

18.8

22.5

0.4

MT0100D

20/6.6

24/8

0.4

0.13

2

MT0200L

12.5

15

0.3

MT0200H

18.8

22.5

0.4

MT0200D

20/6.6

24/8

0.4

0.13

3

MT0300L

12.5

15

0.3

MT0300H

18.8

22.5

0.4

MT0300D

20/6.6

24/8

0.4

0.13

5

MT0500L

12.5

15

0.6

MT0500H

18.8

22.5

0.75

MT0500D

20/6.6

24/8

0.4

0.13

7.5

MT0750L

12.5

15

0.6

MT0750H

18.8

22.5

0.75

MT0750D

20/6.6

24/8

0.4

0.13

10

MT1000L

12.5

15

0.6

MT1000H

18.8

22.5

0.75

MT1000D

20/6.6

24/8

0.4

0.13
Dimensions
( mm )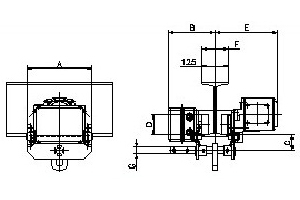 W.L.L.

Cap.

(ton)

Model

Dmensions (mm )

Net Weight

Minimum

Allow Radius

(mm)

A

B

C

D

E

F

G

Single

Speed

Dual

Speed

1

MT0100L

300

218

73

118

290

75

I

175

30

30

800

MT0100H

94

36

MT0100D

118

38

2

MT0200L

302

221

64

118

294

75

I

175

38

44

1,000

MT0200H

106

44

MT0200D

118

46

3

MT0300L

325

221

76

118

294

125

I

200

45

70

1,000

MT0300H

125

70

MT0300D

118

72

5

MT0500L

400

228

94

139

301

150

I

200

55

115

1,500

MT0500H

115

MT0500D

118

7.5

MT0750L

445

231

105

169

304

150

I

300

70

150

2,000

MT0750H

150

MT0750D

155

10

MT1000L

510

237

104

200

311

150

I

300

70

230

2,000

MT1000H

230

MT1000D

235
D: Wheel Dia F: Flange Width