Standard USS Series(Hook/Lug Suspension Type)
Standard USS Series(Hook/Lug Suspension Type)
Product
Features
■ The lug frame use S50C medium carbon steel plate (2t 1 fall type and over capacity) or FCD45 nodular cast-iron (3 Ton 3 Falls Type and lower capacity)
■ Magnetic Cone Brake provides accurate and reliable stopping, even in the event of a total power loss.
■ Long-service, trouble-free Mechanical brake. Together with motor brake, provides dual braking system to assure operating safety.
■ Upper /Lower limit switch is standard to prevent overwinding.
■ Processed canvas chain containers, which have outstanding durability. (Steel containers are requires if lifting height exceeds limit of canvas chain container.
■ Standard lift of load chain, push-button cord or power supply cables are 3 meters. Special length is available upon request.
■ 0750S, 1000S, 1500S and 2000S are available as lug mount only.
■ 48 Volt, low voltage control, 24 volt option.
■ All series with CE approval.
Specifications
W.L.L.

Cap.

( ton)

Capacity code

Lifting Speed ( m/min)

Lifting Motor ( kw)

Load

Chain

Dia (mm)

X Falls

Net Weight

Chain

Weight

Per Meter

( kg)

50 Hz

60 Hz

Single

Speed

Dual

Speed

Single

Speed

Dual

Speed

Single

Speed

Dual

Speed

Single

Speed

Dual

Speed

Single

Speed

Dual

Speed

0.5

0050L

0050LD

6.7

6.7/2.2

8.0

8.0/2.6

1.0

1.5/0.5

7.1 x 1

58

63

1.1

0050H

0050HD

11.3

11.3/3.8

13.5

13.5/4.5

60

1

0100L

0100LD

4.7

4.7/1.6

5.6

5.6/1.8

1.0

1.5/0.5

7.1 x 1

58

63

1.1

0100H

0100HD

6.7

6.7/2.2

8.0

8.0/2.6

1.5

60

2

0200L

0200HD

2.3

2.3/0.8

2.8

2.8/0.9

1.0

1.5/0.5

7.1 x 2

70

75

1.1

0200H

0200LD

3.3

3.3/1.1

4.0

4.0/1.3

1.5

1.5/0.5

7.1 x 2

70

75

1.1

0200S

0200SD

6.6

6.6/2.2

7.9

7.9/2.6

3.7

3.7/1.2

10.0 x 1

116

121

2.18

2.5

0250S

0250SD

5.3

5.3/1.8

6.4

6.4/2.1

3.7

3.7/1.2

11.2 x 1

116

121

2.73

3

0300L

0300HD

1.5

1.5/0.5

1.8

1.8/0.6

1.0

1.5/0.5

7.1 x 3

84

89

1.1

0300H

0300LD

2.2

2.2/0.7

2.6

2.6/0.9

1..5

1.5/0.5

7.1 x 3

84

89

1.1

0300S

0300SD

4.3

4.3/1..4

5.2

5.2/1.7

3.7

3.7/1.2

10.0 x 2

134

139

2.18

5

0500S

0500SD

2.6

2.6/0.9

3.2

3.2/1.0

3.7

3.7/1.2

11.2 x 2

145

150

2.73

7.5

0750S

0750SD

1.8

1.8/0.6

2.1

2.1/0.7

3.7

3.7/1.2

11.2 x 3

195

205

2.73

10

1000S

1000SD

2.6

2.6/0.9

3.2

3.2/1.0

3.7x2

3.7/1.2 x 2

11.2 x 4

334

344

2.73

15

1500S

1500SD

1.8

1.8/0.6

2.1

2.1/0.7

3.7x2

3.7/1.2 x 2

11.2 x 6

400

410

2.73

20

2000S

2000SD

1.3

1.3/0.4

1.6

1.6/0.5

3.7x2

3.7/1.2 x 2

11.2 x 8

510

520

2.73
Dimensions (mm)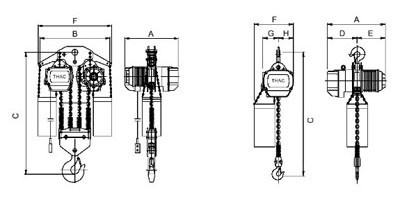 W.L.L.

Cap.

( ton)

Capacity code

Single Speed

Dual Speed

B

Minimum

Headroom

C

F

G

H

Single

Speed

Dual

Speed

A

D

E

A

D

E

0.5

0050L

0050LD

530

260

270

530

260

270

N/A

630

350

137

123

0050H

0050HD

1

0100L

0100LD

530

260

270

530

260

270

N/A

630

350

137

123

0100H

0100HD

550

290

2

0200L

0200HD

530

260

270

530

260

270

N/A

795

350

198

62

0200H

0200LD

530

260

270

550

260

290

795

350

198

62

0200S

0200SD

630

320

310

665

320

345

765

470

169

161

2.5

0250S

0250SD

630

320

310

665

320

345

N/A

925

470

169

161

3

0300L

0300HD

530

260

270

550

260

290

N/A

925

370

210

145

0300H

0300LD

530

260

270

550

260

290

370

210

145

0300S

0300SD

630

320

310

665

320

345

470

224

106

5

0500S

0500SD

630

320

310

665

320

345

N/A

960

470

229

101

7.5

0750S

0750SD

630

320

310

665

320

345

N/A

1170

587

N/A

N/A

10

1000S

1000SD

630

320

310

665

320

345

885

1190

1030

N/A

N/A

15

1500S

1500SD

630

320

310

665

320

345

1,055

1360

1200

N/A

N/A

20

2000S

2000SD

630

320

310

665

320

345

1,055

1450

1390

N/A

N/A