6 products in this product line
Chain Hoist
Model Differences
| | | | |
| --- | --- | --- | --- |
| Features | USS | USK | USE |
| Phase | 3 | 3 | 1 |
| Mechanical Brake | S | S | S |
| Overload Slip Clutch | N/A | S | N/A |
| Upper/Lower Limit Switch | S | S | S |
| Magnetic Cone Brake | S | S | S |
| Thermal Protector | O | O | O |
| Emergency Stop Pendant | O | O | O |
| Chain Container | S | S | S |
| Grade 80 Chain | S | S | S |
| Zinc Diffused Chain | O | O | O |
Models Configurations
Model

Lifting Speed

W.L.L. Capacity ( ton )

0.5

1

2

2.5

3

5

7.5

10

15

20

USS

Single

Speed

Low

●

●

●

●

High

●

●

●

●

Standard

●

●

●

●

●

●

●

●

Dual

Speed

Low

●

●

●

●

High

●

●

●

●

Standard

●

●

●

●

●

●

●

●

USK

Single

Speed

Low

●

●

●

●

High

●

●

●

●

Standard

Dual

Speed

Low

●

●

●

●

High

●

●

●

●

Standard

●

●

●

●

●

●

●

●

USE

Single

Speed

Low

●

●

●
Feature
■ Motor Brakes
The advanced magnetic cone brake provides accurate and reliable stopping, even in the event of a total power loss. It's as simple as motor off, brake on; motor on, brake off. Holding brake can be manually released to lower the load in the event of power failure or malfunction without special tools. Brake lining (asbestos-free) with a life of more than 1 million actuations.
■ Chain Guide
High quality design provides quiet and smooth guiding of the load chain
■ Heavy Duty Motor
Squirrel cage parallel rotor motor designed specifically for hoist duty. Cooling fins increase surface area for maximum heat radiation. The IP55 totally enclosed construction can withstand demanding environment, the motor have class B insulation and aluminum frame. Thermal protection via 145℃ rated N.C. thermostatic switch embedded in motor winding is option.
■ Sprocket
High performance, high precision, sprocket collocated with chain guide let load chain motor quiet and smooth.
■ Load Chain
Grade 80 super alloy load chain is precisely calibrated and heat-treated for long life. Safety factor is more than 6:1. Non-Acid processing galvanized plating load chain for resistance against corrosion is option.
■ Load-Supporting Frame
The lug frame use S50C medium carbon steel plate (2 ton 1 fall type and over capacity) or FCD45 nodular cast-iron(3 ton 3 falls type and lower capacity)
■ Gear Box
The gearbox is cast in one piece from aluminum alloy by gravity die-casting.
■ Weather Protected
Frame and control enclosure are IP55 weather protected rom ingress of dust and water.
■ Overwinding Prevention
Newly designed device features a friction clutch immersed in an oil bath to protect the hoist from overwinding (USK series only)
■ Electromagnetic Contactor
Electromagnetic Contactor has mechanically interlocked for added safety.
■ Quiet Gear Components
For quiet operation and long service life, hardened precision, durable alloy steel helical gears are submersed in an oil bath.
■ Push button Station
Molded reinforced high insulation plastic housing is impact, weather, corrosion and fir resistant. Push button switches are mechanically interlocked. Strain relief cable is molded into the pendant cord. 48 Volt. Low voltage control as standard, 24 volt. as option. 6 or 8 point IP65 pendant as option. EMS button as option.
■ High Durability Chain Containers
THAC provides processed canvas chain containers, which have outstanding durability. Steel containers for outstanding lifting as option
■ Mechanical Brake with friction clutch
THAC's mechanical brake combined with a friction clutch is as stand for USK series. The dual safety device can protect human being & property.
■ Upper/Lower Limit Switch
The limit switch prevents overwinding which stops the hoist in case of overlifting or overlowering. They are as standard for USS and USLK series.
Chain Hoist Ordering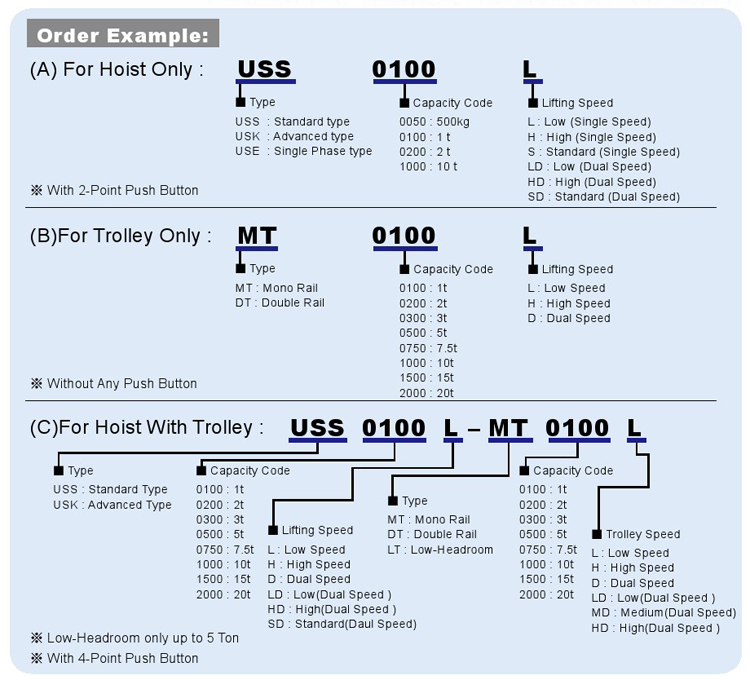 Dimensions

Factory View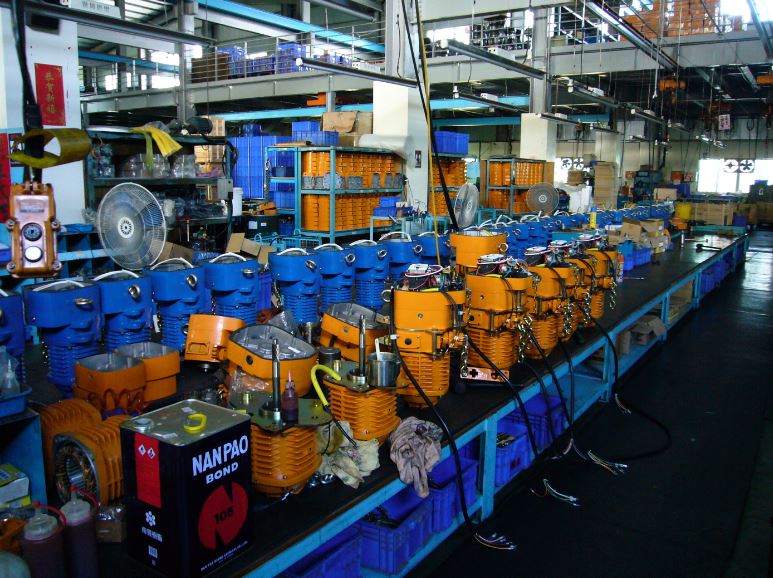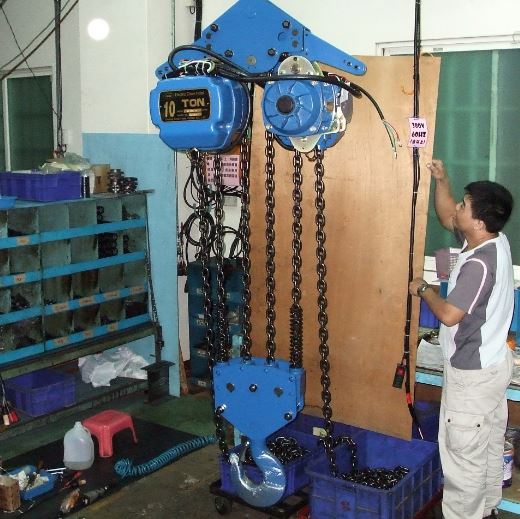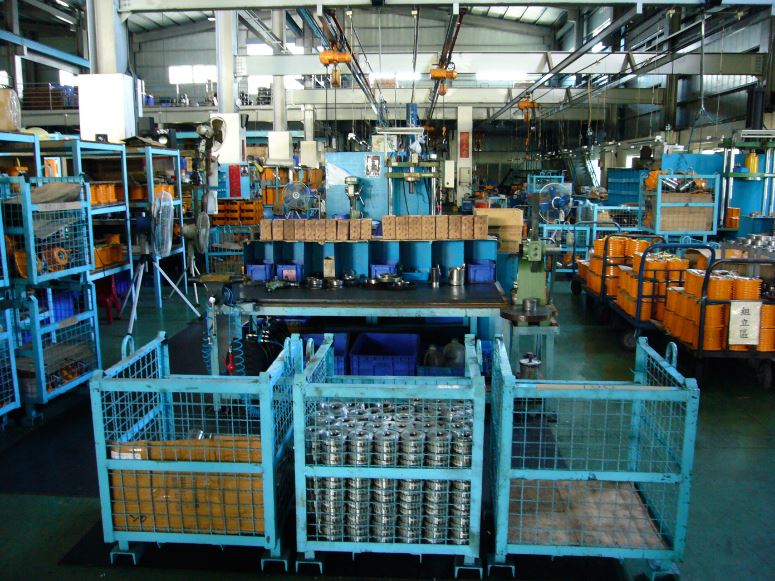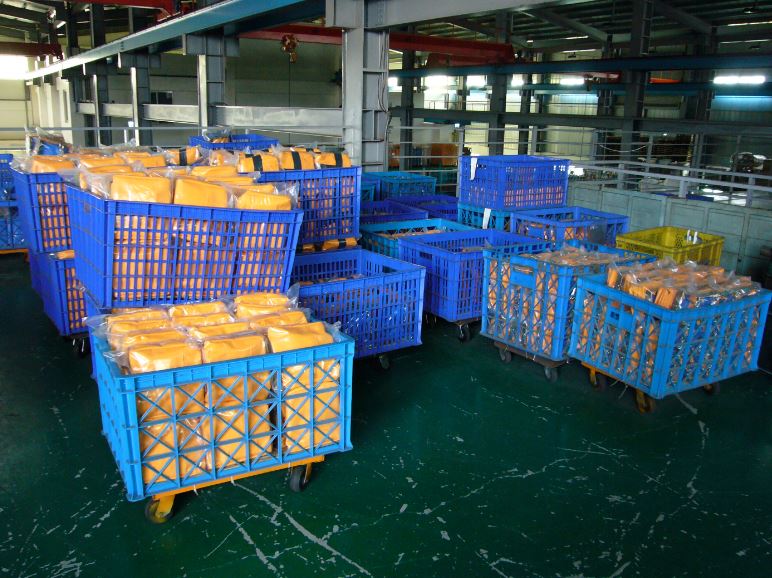 Download Catalog